Atlanta Personal Injury Lawyer
Have you or someone you love been seriously injured by a careless or negligent third party?
Piasta Walker Hagenbush, LLC, is a dedicated protector of your rights, liberty, and happiness. With over $100 million recovered since 2021, the Atlanta personal injury attorneys at our law firm get substantial recompense for the people we represent in personal injury cases, whether through out-of-court settlements or by taking a case to trial.
A free consultation is all it takes to get started. Request yours today and we'll review your case with no obligation for you to have our Atlanta personal injury attorney on your side. We're so committed to your success and well-being that we only want you to choose our law firm if we're a good fit.
Atlanta Personal Injury Resources
Understanding The Goal of a Personal Injury Claim
Personal injury law, also known in the justice system as tort law, seeks to bring a civil case against the perpetrator of wrongdoing. Torts are actions or omissions taken by an individual, government, or organization that yield harm or injury to other people, yielding liability of wrongdoing to the accused.
The goal of a personal injury lawsuit is that the accuser will receive legal remedy for the losses incurred from the negligence of the accused. As defined by the American Bar Association, negligence is "when a person never set out to cause a result like an injury to another person" with "liability stemming from careless or thoughtless conduct or a failure to act." Determining liability in a personal injury claim hinges upon ascertaining this failure to act.
Types of Personal Injury Cases
If you're considering bringing a personal injury claim against a negligent or wrongful third party, here are the types of accidents eligible to be tried under tort law:
Premises Liability Accidents
Nursing Home or Assisted Care Negligence and Abuse
Workplace Injuries
The above examples of personal injury are not a comprehensive list. If you have a circumstance that you believe may fall under a personal injury case, but you are unsure, speak with our personal injury lawyers in Atlanta today.
Steps to Take After an Injury or Accident
No matter how your injury occurs, whether it's from a car accident, workplace injury, or a fall, you can take immediate steps to protect your physical and financial future by keeping a cool head despite your pain. If you've sustained severe injuries, you may be able to do little except wait for medical care to arrive, but if you are able to use your phone—or ask an uninjured bystander to use it for you—doing the following can help you to recover both physically and financially:
Call 911 to report your accident and ask for emergency medical attention

If your injury is on commercial property, ask for the manager to fill out an accident report

Take photos of the accident scene, including any contributing factors, such as a vehicle that collided with your car or a loose handrail on a hotel staircase

Take photos of your visible injuries

Collect the contact information of witnesses

Self-record a statement about what happened while it's fresh in your mind

Go to a hospital for a thorough medical evaluation and tell your medical providers about all of your injuries and symptoms

Ask for a detailed medical report outlining the doctor's treatment recommendations and your overall prognosis

Save all medical bills and statements from any form of medical care after your accident

Obtain a copy of the police or accident report

Call the Atlanta personal injury attorneys at Piasta Walker Hagenbush, LLC, for a free consultation so we can begin a strategy for your personal injury case
It's important to protect your future, even during the frightening aftermath of an accident, fall, defective product injury, or when you've discovered you've been a victim of medical malpractice. If your injury was preventable and only occurred due to someone else's negligence, get in contact with a skilled personal injury attorney in Atlanta to fight for your legal rights and recover compensation. 
What Compensation Can I Receive in My Atlanta Personal Injury Case?
Our Atlanta personal injury attorneys' philosophy always has us seeking the maximum compensation for whatever situation that you are facing. We can make no guarantees about the size of your award after litigation is completed, but we can educate you on some factors that may affect the damages you are entitled to.
Damages are defined as the financial income allowable to be recovered as the outcome of a civil case.
There are three types of personal injury damages in Georgia:
Economic: This type of damage occurs when the accused has to pay the victim's verified monetary loss. Examples of these types of damages include:

Medical Expenses, Past or Present
Loss of Wages, Past or Present
Property Repair or Replacement Costs
Value of Assistive Services for the Victim

Non-Economic: Non-economic damages, in contrast, are subjective losses that are near impossible to quantify. There is no way to justify these claims with a financial valuation objectively. Examples of these types of damages include:

Pain and Suffering
Emotional Distress
Loss of Consortium
Loss of Society and Companionship

Punitive: As implied by the name, punitive damages seek to punish the accused via the financial payment requirement. They do not attempt to offset any economic or non-economic loss.
There have been no upper limits on the financial award an individual can receive from a civil case since the Georgia Supreme Court found damage caps imposed by the state legislature to be unconstitutional in 2010.
The only additional law that could affect your compensation is that of the Comparative Fault statute, also known as Comparative Negligence. This notably affects car accident litigation efforts. Essentially, this law attempts to make sure that only plaintiffs without a significant hand in their personal injuries receive compensation, meaning that a plaintiff will only get a payout if they are found to be less at fault than the defendant.
Potentially, this could mean that if a plaintiff was 20% at fault in a case seeking $100,000 in damages, that plaintiff would receive 20% less. While that plaintiff wouldn't pay anything to the defendant, you could receive nothing if found equally at fault as the defendant (50% or more).
Successful Case Results
The personal injury lawyers at Piasta Walker Hagenbush have successfully represented clients with a range of injury cases across Atlanta, Georgia. Our team of attorneys are committed to fighting for the rights of injury victims and helping recover compensation after an accident or injury. Some successful case results include:
$14,000,000 Settlement: Pedestrian suffered a lower leg injury when a concrete truck struck his right foot. The investigating officer blamed the pedestrian 100% for his own injuries.
$11,250,000 Verdict: 2018 verdict against MARTA for the wrongful death of a customer who fell through a non-code-compliant hole in a guardrail. MARTA blamed the decedent, claiming he had a 0.311 blood alcohol concentration, and a non-party developer of a nearby property.
$11,000,000 Settlement: Negligent security settlement for the death of crime victim at an apartment complex.
$11,000,000 Settlement: Premises liability settlement for the death of crime victim at an apartment complex.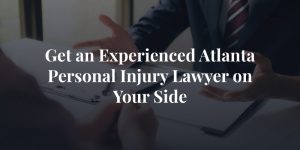 How Is Liability Determined in Georgia Personal Injury Claims?
The success of a personal injury claim depends on your lawyer's ability to gather evidence to prove liability on the part of the person or entity at fault for your injury. Georgia's fault-based insurance system requires that the plaintiff in an injury claim proves the following:
That the at-fault party owed a duty of care to take reasonable measures to prevent harm such as a store owner's duty to place a "Wet Floor" sign after mopping up a spill or a driver's duty to avoid distraction behind the wheel

That the at-fault party breached their duty by acting with negligence, recklessness, or wrongdoing

That their breach of duty directly caused your injury

That you've suffered significant economic and non-economic damages due to the injury 
Once your Atlanta premises liability lawyer clearly demonstrates fault on the part of the person or business responsible for your injury, they will draft a strong demand letter to the appropriate insurance company to compel them to offer a settlement. Your Atlanta personal injury attorney has experience in negotiating with insurance companies from a fact-based position of strength to maximize your compensation. 
Will I Have to Go to Court?
The vast majority of personal injury claims settle out of court after negotiating with the appropriate insurance company. Insurance representatives may use some familiar tactics to attempt to deny your claim or undervalue its worth in order to avoid a hefty payout and protect their profits. It takes a skilled personal injury lawyer to deftly counteract these attempts by presenting the right evidence, including a calculation of your damages, testimony from expert medical witnesses, and proof of liability on the part of the person at fault.
If the insurance company still refuses to offer an ample settlement, your attorney from Piasta Walker Hagenbush, LLC, is ready to advocate for your rights and best interests through courtroom litigation with the aim of winning a substantial jury award for your damages.
Common Tactics Used By Insurance Companies to Deny a Claim
Insurance companies are private businesses that have profits in mind in all of their actions, despite how caring they may sound in commercials or when selling you a policy. They don't happily write out the large checks injury victims need to cover their expenses plus the amount of compensation for pain and suffering they deserve. Insurance adjusters try to find loopholes and use common tactics to deny a claim or unjustly undervalue it. Common insurance company denial strategies include:
Trying to assign you more fault for the injury than you deserve

Calling very shortly after your injury before you know the extent of your damages to offer a low settlement in exchange for signing a release from further liability

Asking for medical authorization to review the notes on your injury and then scouring your medical history to look for "proof" that your symptoms are from a pre-existing medical condition

Denying that you really need the medical treatment or procedures that your doctor recommends to treat your injury

Calling you on a recorded line and then using your words out of context against you

Following you on social media to catch you in an activity that might show you aren't in as much pain as you claim
Some insurance companies resort to "bad-faith" insurance practices that can leave them susceptible to a lawsuit, but most use legal but often deceptive methods to deny your claim. It's important to hire an Atlanta workplace accident attorney soon after your injury and direct all exchanges with the insurance company to your lawyer.
Frequently Asked Questions Regarding Personal Injury Law in Atlanta, GA
When the time comes to choose an Atlanta personal injury attorney, you may be faced with specific questions and concerns. We'll be addressing some of the most common issues below.
Do You Have to File a Personal Injury Lawsuit Within a Specific Time Period in Georgia?
In most cases, the statute of limitations in personal injury law cases in Atlanta and across Georgia is two years, starting from the time of the incident, as detailed in 2020 Georgia Code Title 9. While this is a good rule of thumb, there are exceptions based on specific situations.
Who Can Bring a Wrongful Death Lawsuit?
Wrongful Death in Georgia is defined as "all cases in which the death of a human being results from a crime, from criminal or other negligence, or from property which has been defectively manufactured, whether or not as the result of negligence" (GA Code § 51-4-1). These deaths are classified as "homicides" in the 2021 Georgia Code.
Under Georgia's Wrongful Death Act, there is a limit on what individuals can bring a wrongful death claim to civil court. Those individuals are limited to the most immediate next of kin surviving the victim. If the individual was unmarried without children, parents are eligible to bring that claim, but if the individual was married, only the spouse or children of that relationship can bring a wrongful death suit.
Financial damages are also divided specifically according to this statute as well. Of course, if the deceased had a will, that takes precedence over the Georgia Wrongful Death Act. However, in the likelihood that that individual did not have a will, damages will be awarded as the statute dictates.
If the individual was married but had no surviving children, that spouse would receive the entire compensatory award after the lawsuit. For individuals who are married with children, the spouse receives a third of the award, with all surviving children receiving two-thirds of the award. An unmarried individual with no children survived by their parents has a more granular fiscal payout designation that is best explained by a trusted legal team, such as the experienced Atlanta wrongful death attorneys at Piasta Walker Hagenbush, LLC.
How the Atlanta Personal Injury Lawyers at Piasta Walker Hagenbush, LLC Can Help
Your Atlanta personal injury attorney from Piasta Walker Hagenbush, LLC, will investigate the unique circumstances of your injury and form a strategy for the best way forward on your personal injury case. They will gather the evidence needed to demonstrate how your injury occurred and show why the person at fault is liable for damages. They will calculate your economic damages and use that amount to find an appropriate amount for your non-economic damages such as pain and suffering, through court-accepted formulas using either "per diem" amounts estimating an amount per every day you've had pain and can expect to endure future pain, or through a formula based on the amount of your medical bills. Typically, the higher the medical bills, the more likely you are to have suffered serious injuries and endured a great deal of pain during the procedures and medical care needed for your injury. Your Atlanta personal injury lawyer understands how to recover the maximum compensation for your unique damages.
Areas We Serve
The attorneys at Piasta Walker Hagenbush, LLC are committed to representing people who have been wrongly injured across Atlanta, Georgia. Our law firm serves clients in areas including:
Buckhead | Midtown | Downtown | Virginia Highland | Inman Park | Old Fourth Ward | Grant Park | Ansley Park | Cabbagetown | Reynoldstown | Morningside | West End | Kirkwood | East Atlanta Village | Poncey-Highland | Little Five Points | Vinings | Sandy Springs | Decatur | Druid Hills | Atlantic Station | Castleberry Hill | East Lake | Ormewood Park | Edgewood | Mechanicsville | Piedmont Heights | Chastain Park
Trust the Successful Track Record of Our Atlanta Personal Injury Lawyers
The team of Atlanta personal injury lawyers at Piasta Walker Hagenbush, LLC wants to provide maximum compensation for the economic and non-economic damages you may have experienced as a result of your personal injury. We know that nothing can fully restore the calamitous losses you may have faced in the injury's wake, but our mission is to seek compensation and make it as right as possible.
$100 million in payouts since 2021 marks Piasta Walker Hagenbush, LLC as a trusted voice and defender of individuals suffering hardship after their personal injury. Unlike some other firms in Atlanta, our law firm is not scared of taking your personal injury lawsuit to trial to fight for you to recover compensation and receive maximum payout for your or your loved one's pain and suffering.
Our team of experienced personal injury attorneys in Atlanta are standing by to give you a free case evaluation. The Atlanta personal injury attorneys at our law firm are ready to listen and provide guidance on what you're facing as you're considering choosing the path of civil litigation. Contact us today or call (404) 996-1296 to get started with your case.
"I have dealt with Mike Walker on many occasions on different issues. He has always been very attentive and professional. I would highly recommend this law firm for any personal injury matter. Unlike many law firms, they don't just try to get a quick settlement. They will go to court and fight for you."

– John H.

"Ed, Chris, and Mike are the cream of the crop when it comes to personal injury attorneys in Georgia. I have known all three of these men for a number of years and worked with Ed on several cases. Their dedication to client service is unparalleled. If you need a Georgia attorney for an automobile crash or inadequate security case, I highly recommend this firm."

– Joel W.