Atlanta Pedestrian Accident Attorney
An accident involving a motor vehicle and a pedestrian can be deadly. In addition to death, pedestrians involved in accidents with motor vehicles can sustain multiple or serious injuries. Because of the nature of these accidents, injuries suffered by pedestrians can be catastrophic, causing tremendous pain and suffering and life-long disabilities.
Unfortunately, every year thousands of pedestrians are injured in traffic accidents by inattentive drivers who failed to obey traffic laws. Drivers running stop lights, talking on cell phones, texting and driving, and speeding put pedestrians at risk.
The good news is that if you or someone you care about was injured in a pedestrian accident in Atlanta, the law is usually on your side. Call Piasta Walker Hagenbush, LLC to discuss your case with an experienced Atlanta pedestrian accident lawyer, who can explain your rights and legal options.
Call us today at (404) 996-1296. We charge no fee unless we win compensation for you.
Who Is At-Fault For a Pedestrian Accident in Atlanta?
Drivers on Georgia roadways have a legal duty to exercise a reasonable amount of care for other drivers and pedestrians. Strict traffic laws are in place to ensure the safety of all those who share Georgia's roadways. As a result, if you are injured by a driver's negligence, they may be held legally liable for your injuries and other losses.
Many people do not realize that a pedestrian always has the right of way under Georgia law. Even if you are not walking on a sidewalk or crossing the street in a crosswalk, a motor vehicle driver always has a duty to look out for pedestrians, yield the right of way, and take reasonable measures to avoid hitting them. Our experienced car accident lawyers in Atlanta know that drivers are nearly always found at fault in the a pedestrian accident claim.
Why Hire an Atlanta Pedestrian Accident Lawyer?
After being injured in a pedestrian accident, you will need a qualified and experienced Atlanta pedestrian accident attorney on your side. You need a pedestrian accident lawyer in Atlanta that specializes in pedestrian accident cases to help you get the fair recovery that you deserve.
Your pedestrian accident attorney in Atlanta can investigate the circumstances of your pedestrian accident, negotiate with the liable insurance companies, and file a lawsuit, if necessary, to get you the compensation you deserve. Your attorney can also hire an accident reconstruction expert to reconstruct the accident in order to determine who was at fault.
Even if you are found to be partially at fault for the accident, your Atlanta pedestrian accident lawyer may still be able to get you some compensation for your medical expenses, rehabilitation, long-term care, and lost wages.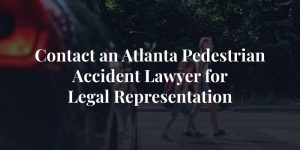 Call Piasta Walker Hagenbush, LLC Pedestrian Accident Lawyers in Atlanta
If you or a loved one was injured in a pedestrian accident in Georgia, an aggressive Atlanta personal injury attorney from our law firm will be able to pursue compensation on your behalf and file the necessary lawsuits needed after your pedestrian accident.
Pedestrian accident injuries are often much more serious than those sustained in car accidents. Our pedestrian accident attorneys in Atlanta, GA understand the nuances that make pedestrian accident cases different from other personal injury cases, and we can assist you in determining the full value of your case and negotiating a fair settlement with the liable insurance company.
Contact Piasta Walker Hagenbush, LLC, today at (404) 996-1296, or contact us online for a free consultation and review of your case. We charge no legal fee unless we win compensation on your behalf.