Atlanta Sexual Assault Lawyers
The statistics regarding sexual assault are staggering. It is estimated that more than 450,000 people become victims of sexual assault each year in the United States. One of the worst truths about sexual assault is that most incidents are never reported or brought to light.
Victims of sexual assault are often, and understandably, intimidated into silence. But you have a right to speak up, and we are here to help you exercise that right and obtain justice.
At Piasta Walker Hagenbush, LLC, our personal injury attorneys are proud to pursue justice and serve as the voice for victims of sexual assault. If you have been subjected to a sexual assault in Atlanta, please call us at (404) 996-1296. We will provide you with a free, confidential, and private consultation and let you know any legal recourse available.
Sexual Assault Claims Our Attorneys Handle in Atlanta
In Georgia, sexual assault is any sexual contact by a person who has supervisory or disciplinary authority over you or custody over you, regardless of your consent, according to our team of workplace injury attorneys in Atlanta. This applies to situations where you and the alleged perpetrator are unmarried, irrespective of your genders.
Sadly, many victims have been assaulted by someone they know or even trusted, such as a coach, caretaker, doctor, or mental health care provider. At our law firm, our team of Atlanta sexual assault attorneys pursue justice for victims of sexual assault by bringing claims against those responsible and the institutions they work for, such as:
Churches and clergy members
Teachers and schools
Government agencies
Law enforcement officers
Doctors and hospitals
Psychologist
Aftermath of a Sexual Assault
Sexual assault can result in physical, mental, and emotional injuries, often requiring costly medical and mental health treatment. Many victims of sexual assault also become withdrawn, depressed, and have difficulty making eye contact with people because of internalized shame from the incident.
On the other hand, the alleged perpetrator often continues unabated unless the victim stands up and holds them accountable. If you or a loved one was the victim of sexual assault, contact our law firm for a free legal consultation with a sexual assault lawyer in Atlanta who can help you hold the alleged perpetrator financially accountable for your injuries and financial losses.
What Are My Legal Options as a Victim of Sexual Assault?
In terms of your legal options after a sexual assault, many people assume that the only avenue of recourse is criminal. While it is true that a criminal complaint will be the only one that results in the prosecution and potential conviction of the alleged perpetrator, you can also pursue a civil lawsuit against the alleged perpetrator to recover monetary compensation for the harm they caused you.
Taking legal action is your right, and we are here to help you exercise that right. Our Atlanta sexual assault attorneys will pursue your sexual assault case with compassion and confidentiality. Take the first step toward justice and closure. Call our office directly or contact us online today.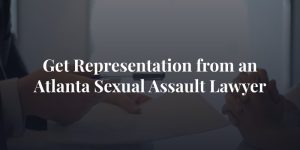 Criminal Prosecution vs. Civil Litigation for Sexual Assault Cases in Atlanta, GA
There are some significant differences between the criminal prosecution of a sexual assault case and civil litigation (a civil lawsuit) for sexual assault:
The Burden of Proof
The burden of proof is what the plaintiff must prove to prevail in a criminal or civil case against the alleged perpetrator. In a criminal case, the prosecutor has the burden to prove beyond a reasonable doubt, the highest burden in our justice system, that the defendant committed the alleged sexual assault. But in a civil case, the burden of proof is a preponderance of the evidence, meaning that the defendant is more likely than not (51% or more) to have committed the alleged sexual assault.
The Penalties
In a criminal case, the defendant faces substantial prison time, difficult terms of probation, sex offender registration, and other costs and difficulties. Alternatively, in a civil case, the penalties are monetary damages the perpetrator must pay to compensate the victim for injuries, out-of-pocket expenses, and other damages resulting from the sexual assault.
The Right to Counsel
The defendant in a criminal prosecution has the right to counsel. If they cannot afford to retain counsel on their own, they are entitled to seek or request an appointed counsel from the court. But neither the plaintiff nor the defendant is entitled to counsel in a civil lawsuit. They must come up with their own means to retain counsel. As the plaintiff in a sexual assault case, it is essential that you retain counsel to help fight for your rights and recover the compensation you deserve.
The Parties to The Case
In a criminal prosecution, the two major parties are the State (the prosecutor) and the defendant (the alleged perpetrator). You, the victim, are not actually a party in the criminal case. You may be a witness and play a significant role in the prosecution, but you are not a party to the case.
Alternatively, in a civil lawsuit, the victim bringing the charges and allegations against the defendant is the primary party in the case and will ultimately determine how far the case will go.
The Right to Bring Charges
In a criminal case, the prosecutor is the one that decides whether charges will be filed against the alleged perpetrator and what those charges will be. Contrary to common belief, the victim in a criminal case does not have the authority to decide if any charges will be brought. In a civil case, on the other hand, the plaintiff ultimately decides if a lawsuit will be filed and the direction the case will take.
Who Decides What Charges or Claims Will Be Made
In a criminal case, the district attorney's office decides what criminal charges will be filed against the defendant based on how the facts of the case relate to the criminal statutes in play, such as:
Sexual assault by persons with supervisory or disciplinary authority
Sexual assault by a practitioner of psychotherapy against a patient
Sexual assault against persons in custody
In a civil lawsuit, you, with the assistance of your personal injury attorney, will decide what claims you will bring against the defendant. Whether those are sexual assault, intentional infliction of emotional distress, or a variety of other allegations that can be brought against the alleged perpetrator or any other party whose actions or inaction contributed to the sexual assault or permitted it to happen.
The Statute of Limitations or How Long You Have to Bring a Cause of Action
In Georgia, the statute of limitations for a criminal sexual assault prosecution varies from two to seven years from the date that the sexual assault took place. Alternatively, in a civil case, the time limit for bringing a lawsuit is typically two years from the date the alleged sexual assault occurred. Miss this deadline, and you may lose your right to bring a lawsuit forever.
Call an Atlanta Sexual Assault Attorney at Piasta Walker Hagenbush, LLC
At Piasta Walker Hagenbush, LLC, our Atlanta personal injury lawyers handle sexual assault lawsuits on behalf of victims in Atlanta. If you feel that you or a loved one may be a victim of a sexual assault, or if you have questions about any of the issues discussed above, please call us at (404) 996-1296, or fill out our contact form and one of our team members will follow up with you for immediate assistance. We look forward to being fierce advocates for you.