Atlanta Wrongful Death Lawyer
Have you lost a loved one as the result of an accident or someone else's carelessness? If so, you may have a wrongful death case. In a wrongful death case, the decedent's surviving family members or the representative of their estate can file a lawsuit against those who caused the decedent's death.
At Piasta Walker Hagenbush, LLC, our Atlanta wrongful death lawyers understand the untimely death of a loved one is always a tragic event. We also understand how important it is for the victim's family to tenaciously pursue a wrongful death claim to hold those who caused their loved one's death fully financially accountable for their loss.
Call Piasta Walker Hagenbush, LLC, today at (404) 996-1296 to schedule a free consultation with an experienced Atlanta wrongful death lawyer. We charge no fee if we do not recover compensation for you and your family.
Common Causes of Wrongful Death in Atlanta
In Georgia, a wrongful death occurs when someone loses their life because of someone else's negligence or wrongdoing, whether accidental or intentional. A wrongful death case can arise from any type of personal injury.
Common causes of wrongful death in Atlanta include:
Motorcycle accidents
Intentional acts of violence or wrongdoing
Who Can File a Wrongful Death Lawsuit in Georgia?
A wrongful death claim is a lawsuit that allows the deceased person's family members or estate to hold the defendant financially accountable for the death. Under Georgia law, a wrongful death claim must be brought on behalf of the deceased person by a surviving spouse, surviving child, parent, or the executor of the deceased person's estate. A surviving family member who files a wrongful death lawsuit can seek various wrongful death damages depending on the case.
What Damages Are Recoverable in a Georgia Wrongful Death Claim?
Two types of damages may be recovered in a Georgia wrongful death claim, according to our team of Atlanta workplace injury attorneys.
The full value of the life of the decedent – including compensation for lost wages, income, and benefits the decedent would have earned had they lived, as well as fair compensation for the loss of the decedent's care, companionship, and guidance.
Damages intended to compensate the decedent's estate for losses, such as:

The decedent's final medical expenses before death
Funeral and burial expenses
Other expenses resulting from the decedent's injury and death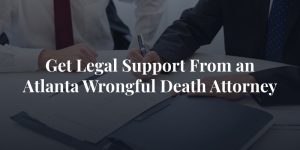 What Is The Statute of Limitations for Wrongful Death Claims in Atlanta, Georgia?
Under Georgia law, a wrongful death lawsuit must generally be filed within two years of the date of the death, according to a trusted slip and fall lawyer in Atlanta. However, if the decedent's death also leads to criminal charges, the two-year statute of limitations can be tolled until the criminal case is resolved, up to six years. But whatever the case, if a wrongful death lawsuit is not filed before the applicable statute of limitations expires, you will lose the right to bring the lawsuit and seek wrongful death damages.
Contact Piasta Walker Hagenbush, LLC For Your Atlanta Wrongful Death Attorney
The law on wrongful death cases in Georgia is multifaceted. But our wrongful death attorneys in Atlanta, GA have the experience and expertise to build a solid case against all negligent parties and will fight for fair compensation. Our expert team of Atlanta motorcycle collision attorneys can also help if a loved one has been killed in a devastating motorcycle accident as well.
Every wrongful death case has its own set of associated losses. In order to accurately assess the totality of these losses, our wrongful death lawyers in Atlanta consult with financial experts to obtain the most compensation possible for our clients and their families.
If you lost a loved one because of someone else's negligence or wrongdoing, contact our team of Atlanta personal injury lawyers at Piasta Walker Hagenbush, LLC to discuss your injury claim. Call our law firm at (404) 996-1296 or contact us online to arrange a free consultation with a knowledgeable and experienced Atlanta wrongful death attorney.
If you are worried about the legal fee, do not be. The Atlanta wrongful death attorneys at our law firm do not charge a legal fee unless we win your case.