Atlanta Motorcycle Accident Attorney
A motorcycle accident can result in life-altering injuries to the rider, who will typically sustain the most severe injuries. But even if you avoid serious injury, what is left for you after the emergency vehicles have left the scene, your motorcycle has been towed away, and the debris swept up?
A motorcycle accident can also result in major property damage and have a devastating impact on your quality of life. Medical bills, time off work, and pain and suffering can bring life to a standstill.
If you or a loved one has been injured in a motorcycle accident in Atlanta, you need an experienced legal team that has the expertise to win you the compensation that you deserve. And at Piasta Walker Hagenbush, LLC, that is what you will get.
Call our law firm today at (404) 996-1296 to schedule a free consultation with an experienced Atlanta motorcycle accident lawyer.
Atlanta Motorcycle Accident Resources
Types of Atlanta Motorcycle Accident Claims We Handle
Driver Negligence
One type of motorcycle accident claims Piasta Walker Hagenbush, LLC, handles is driver negligence. If another vehicle caused the accident with your motorcycle, we will go after the negligent driver's insurance policy. Our Atlanta car accident attorneys have experience handling motorcycle and car collision claims and representing injury victims. These types of injury cases can oftentimes be accomplished outside a formal lawsuit setting. However, we will not hesitate to go toe to toe with the liable insurance company in court to get you what you deserve.
Uninsured/Underinsured Motorist Claims
Some motorcycle insurance policies have what is known as supplemental uninsured/underinsured motorist coverage available. If you have purchased this type of coverage and your insurance company will not give you the benefits you are due, our law firm has extensive experience and success in pursuing these types of claims.
Negligent Roadway Design Claims
A negligent roadway design lawsuit may be filed against the state, city, or county alleging that their design of the roadway caused or contributed to your motorcycle accident. Examples of negligent roadway design include:
Improper signage
Missing warning signs
Improper speed limits for the layout of the roadway
Lack of maintenance
Poor drainage
Negligent roadway design cases are the most complex and difficult cases to handle. A complete investigation must be performed by an experienced engineer who can determine that the roadway was in fact flawed which caused the motorcycle wreck. The Atlanta motorcycle accident attorneys at Piasta Walker Hagenbush, LLC, have the experience and expertise necessary to handle these types of lawsuits successfully.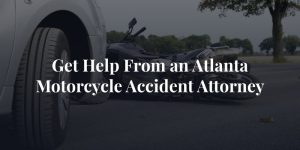 Common Injuries in Motorcycle Accidents
The unenclosed design of a motorcycle provides an exhilarating riding experience. However, it also offers no protection to a rider in a motorcycle crash. Motorcyclists often suffer severe injuries after an accident. Though a helmet offers protection against blunt force trauma to the head, it cannot prevent all head injuries, since traumatic brain injuries can occur from a sudden forceful jarring motion that causes the brain to shift inside the skull or bump against the bones of the skull. Plus, a rider's body is completely vulnerable to injuries in an accident. Common motorcycle accident injuries include:
Fractures, including of the ribs, hip, and pelvis as well as fractured limbs

Back injury

Neck injury

Spinal cord injury

Internal injuries

Severe abrasions or "road rash"

Soft-tissue injuries such as sprains, torn rotator cuff, and torn ligaments
Motorcycle injuries are serious and survivors typically require expensive medical treatment and ongoing medical attention during recovery. A successful motorcycle accident lawyer in Atlanta can help accident victims recover damages with a personal injury claim.
What Damages Can I Recover From My Motorcycle Accident Claim?
If you've suffered a serious motorcycle accident, it's likely that you're dealing with piles of medical bills rolling in at the same time that you may not be able to return to work due to your injuries. A successful motorcycle accident injury claim in Atlanta can help accident victims recover damages including compensation for the following:
Medical expenses

Future medical bills

Lost wages

Diminished earning capacity (if the accident caused a disability)

Pain and suffering

Any other appropriate non-economic damages like disfigurement, loss of limb, or loss of pleasure in life
If your motorcycle accident was caused by someone else's negligence, reckless driving, or intentional wrongdoing, you shouldn't be left holding the bag. The party at fault for your injuries is responsible for the damages. In the event of a fatal motorcycle wreck, surviving family members can seek legal help from an experienced Atlanta wrongful death lawyer for support in securing compensation.
What to Do After a Motorcycle Accident in Atlanta
If you've been seriously injured in a motorcycle crash, you may be unconscious or unable to do anything but wait for help. But if you can move without causing further injury, you can take certain steps to help protect yourself physically and financially once the dust settles. By using your phone—or handing it to someone else to use for you—you can help your chances of recovery by doing the following:
Call 911 to report the accident and request emergency services

Take photos of the accident scene including any other involved vehicles, road signs, traffic signals, damaged roadway, or any other contributing factor

Take photos of your damaged motorcycle

Take photos of any visible injuries

Add the contact information of the driver and/or eyewitnesses to the accident
At the hospital, ask for a complete medical evaluation, and be sure to tell the medical providers about all of your symptoms even if they seem minor. Then:
Ask for a detailed medical report listing your injuries, treatment recommendations, and prognosis

Obtain a copy of the accident report

Contact the motorcycle accident attorneys at Piasta Walker Hagenbush, LLC, for a free consultation
It's important to protect your future after a devastating accident. The personal injury attorneys at the Atlanta law firm of Piasta Walker Hagenbush, LLC, have compassion for our clients injured in motorcycle accidents. We want to help make it right.
Proving Negligence in A Motorcycle Accident in Atlanta
A successful motorcycle accident claim in Atlanta requires proving the at-fault party liable for damages such as medical expenses and pain and suffering. Proving liability means showing how their negligence directly caused the injury and related damages by demonstrating the following:
That the at-fault party owed a duty of care to keep you and others safe on the road by obeying traffic laws or by maintaining a safe roadway

That they breached this duty through negligence, recklessness, or purposeful wrongdoing

That the breach of their duty of reasonable care directly caused your injuries

That you've suffered significant damages from the injury
A negligent driver, a city road maintenance agency, or the manufacturer of a defective part all may be potential liable parties in a motorcycle accident claim. Your Atlanta motorcycle accident attorney will thoroughly investigate your specific motorcycle accident case to identify the negligent party and prove their negligence and liability for damages.
Causes of Motorcycle Crashes in Georgia
Not only are motorcycle riders especially vulnerable in an accident, but motorcycles themselves are more susceptible to accidents than 4-wheeled vehicles. The 2-wheeled design of a motorcycle lacks the stability of a 4-wheeled vehicle with axles and is far more likely to tip, flip, or roll in an accident. The slim design of a motorcycle is also less visible to other drivers. The same driver who would likely see a car or truck when making a turn or a lane change might not notice a motorcycle if they aren't practicing vigilant care behind the wheel or if they're distracted, tired, or speeding. Common causes of motorcycle accidents in Atlanta and the surrounding Georgia area include:
Driver speeding

Reckless driving

Intoxicated drivers

Opening car doors in front of an approaching motorcycle

Illegal lane splitting

Drivers making unsafe lane changes

Drivers following a motorcycle too closely

Poorly maintained roads
While some accidents may be unavoidable, such as those caused by weather conditions, or motorcycle rider inexperience, the majority of motorcycle crashes happen due to driver negligence, road debris, or defective motorcycle parts.
Areas We Serve
The Atlanta motorcycle accident attorneys at our law firm serve clients all around the Atlanta, GA area including:
East Atlanta Village | Poncey-Highland | Little Five Points | Vinings | Sandy Springs | Decatur | Druid Hills | Atlantic Station | Castleberry Hill | East Lake | Ormewood Park | Edgewood | Mechanicsville | Piedmont Heights | Chastain Park | Buckhead | Midtown | Downtown | Virginia Highland | Inman Park | Old Fourth Ward | Grant Park | Ansley Park | Cabbagetown | Reynoldstown | Morningside | West End | Kirkwood

Do I Have to Go to Court For a Motorcycle Accident Claim in Atlanta?
The idea of facing a court case can be intimidating, especially when you're still trying to recover from your motorcycle accident injuries to the best extent possible. Fortunately, the vast majority of motorcycle accident claims settle out of court through the insurance policy of the party at fault for the accident. Only about 5% of personal injury claims—including motorcycle accident cases—require a lawsuit in court. Your case could progress to a lawsuit only if the applicable insurance company denies your valid claim or attempts to seriously lowball your damages. An experienced Atlanta motorcycle accident lawyer from Piasta Walker Hagenbush, LLC, is more than ready to defend your best interests in court if it's necessary to secure your compensation.
Georgia law allows time for claims to move forward through back-and-forth negotiations between your attorney and the insurance provider with enough time to file a motorcycle accident lawsuit before the statute of limitations expires if the insurance company fails to provide an ample settlement offer.
What Is The Statute of Limitations for Motorcycle Accident Claims in Atlanta?
In Georgia, you generally have two years from the date of the accident to file a motorcycle accident claim. Failure to file a motorcycle accident lawsuit within this time frame will forfeit your right to seek compensation for medical bills, lost wages and income, pain and suffering, and other losses.
State and local laws often require injured motorcycle riders to serve a notice of claim before filing a lawsuit against a government or governmental agency. As such, you may have as little as 90 days to provide notice of your intent to bring your Atlanta motorcycle accident claim.
Therefore, it is important to have an experienced motorcycle accident lawyer in Atlanta on your side from the very beginning of the complicated motorcycle injury claims process. Our motorcycle accident lawyers in Atlanta have years of experience bringing these types of personal injury claims.
Client Testimonials
"Edward is an experienced trial lawyer who has taken objectively difficult cases and turned them into multi-million dollar successes at trial. I fully endorse this TRUE Trial Lawyer."
– Titus N.
"I have dealt with Mike Walker on many occasions on different issues. He has always been very attentive and professional. I would highly recommend this law firm for any personal injury matter. Unlike many law firms, they don't just try to get a quick settlement. They will go to court and fight for you."
– John H.
"Mike is a competent and aggressive litigator. He approaches his cases with an "outside the box" mentality and is terrific at developing angles for cases that most attorneys would never think of. I highly recommend him."
– Jonathan S.
Call an Atlanta Motorcycle Accident Attorney at Piasta Walker Hagenbush, LLC
If you or someone you care about was injured in a motorcycle accident in Atlanta, contact us online or call Piasta Walker Hagenbush, LLC, at (404) 996-1296 for a free consultation. Our Atlanta personal injury lawyers charge no fee unless we win your motorcycle accident claim.