Atlanta Car Accident Lawyer
Car accidents are one of the leading causes of preventable death and injury in the United States. Everyone knows at least one person who has been in some kind of car accident. However, unless you have been through it before, most people don't how difficult the aftermath of a serious car crash can be.
If you or a loved one has been injured in an auto accident as the result of a careless third party, you may be eligible for financial compensation. At Piasta Walker Hagenbush, LLC, our Atlanta car accident lawyers can help.
Whether it's working with insurers to make sure your story is honored in the outcome or facing a long road of physical and emotional recovery ahead, Piasta Walker Hagenbush, LLC, is committed to bringing you the justice you seek.
Contact the Atlanta personal injury attorneys at our law firm for a free, no-obligation consultation and case review.

Atlanta Car Accident Resources
Car Accident Rates in Georgia
According to the Georgia Department of Public Health, motor vehicle crashes are the number one cause of injury-related deaths and the second leading cause of ER visits and hospital stays.
387,444 – that's the total number of crashes reported in Georgia in 2021, and 1,909 were fatal. Ranked the 4th most deadly state for car accidents by the U.S. Census Bureau, Georgia motorists need to be aware that a car accident isn't just something that happens to other people. It can likely happen to you or your family.
And if you're here because it's happened to you or your loved ones, the team of Atlanta car accident attorneys at Piasta Walker Hagenbush, LLC, is standing by to help.
Understanding Different Types of Car Accidents
If you're reading this, you may have gotten in one of the following types of auto accidents:
Head-On Collision: two drivers hit each other, front bumper on front bumper – head-on. Head-on collisions can occur with a car, truck, semi, or motorcycle.
Vehicle Rollover: when a larger vehicle like a truck, SEMI, SUV, or van flips onto its side, potentially ejecting the occupant or occupants in the process.
T-Bone: when a vehicle drives head-on into the side of another, often hitting the driver's side and making the side look like a T shape.
Multiple Vehicle Collision: A multi-car pile-up occurs when three or more vehicles are involved in a chain car accident.
Sideswipe Collision: when two cars in parallel drive too closely and one hits the other.
Side-Impact Collision: different from a sideswipe, side-impacts are when a vehicle is hit by the front end of another vehicle on the side.
Distracted driving is one of the leading causes of auto accidents. Potentially hazardous car crash situations may occur in intersections, parking lots, freeways, highways, driveways, and city and county roads. Additionally, car accidents can also occur via the negligence of officials maintaining roads, but these incidents tend to be more uncommon.
How Can an Atlanta Car Accident Lawyer Help After a Car Crash?
Car accidents can be complex. Whether you were the victim or you are working on behalf of a loved one, you may be overwhelmed with what to do next. With the Atlanta car accident attorneys at Piasta Walker Hagenbush, LLC, you won't have to go through this process alone. Get an Atlanta car accident lawyer on your side through every step of the process after a motor vehicle accident.
When you become our client, a Piasta Walker Hagenbush, LLC car accident lawyer in Atlanta will:
Investigate the accident thoroughly to understand who or what was the cause
Interview witnesses to the accident
Communicate directly with all insurers, yours and the other party's (if applicable)
Of course, after we complete discovery, we may find it is in your best interest to settle or even take the case to trial. But at the end of the day, it's always your choice what avenue we take.
Regardless of which option we take, we will fight for you to receive the maximum compensation for your car accident case to try and make you whole again.
Successful Case Results
The Atlanta car accident attorneys at Piasta Walker Hagenbush, LLC have years of experience successfully handling a wide range of auto accident cases. Our team of injury lawyers have recovered compensation for clients who have suffered after serious accidents. Some notable case results include:
$4,000,000 Settlement: Vehicle accident arising from a tractor-trailer collision. The client required back surgery.
$3,950,000 Settlement: Motor vehicle accident case for client who sustained leg fractures.
$3,000,000 Settlement: Motor vehicle accident case requiring back surgery.
$1,750,000 Verdict: 2019 verdict in a car accident case involving a client who had approximately $60,000.00 in medical expenses arising from an arthroscopic shoulder surgery.
$1,600,000 Settlement: Total recovery in a motor vehicle accident case involving a client with back injuries sustained in a tractor-trailer wreck.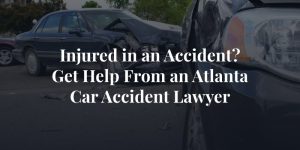 Common Car Accident Injuries Eligible for Compensation in Atlanta, GA
Car accident injuries can range in type and severity, many ending in fatalities. Our Atlanta wrongful death lawyers have represented families of fatal car accident victims and successfully recovered financial compensation.
A car accident may result in the following physical injuries:
Whiplash
Concussions
Broken Bones
Lacerations and Bruises
Traumatic Brain Injuries
Soft Tissue Injuries
Spinal and Nervous System Injuries
Internal Bleeding
Multiple Organ Failure
Additionally, you may be experiencing PTSD, anxiety, depression, or other mental health challenges after you experience your auto accident.
Steps to Take After a Car Accident in Georgia
Car accidents are terrifying and traumatic. In the aftermath of an accident, you may be too seriously injured to do much other than wait for help to arrive, but if you can take the following steps, you can protect yourself both physically and financially to maximize your recovery later. After an accident, your cell phone is your greatest tool. If you are too injured to be safely mobile, you can try handing your phone to an uninjured person or bystander to use it for you for the following:
First, call 911 to report your auto accident

While waiting for help to arrive, quickly take photos of the accident scene including any contributing factors such as traffic lights, an intersection, or a road hazard

Take photos of the other vehicle(s) involved in the auto accident

Take photos of the damage to your car and others

Take photos of any visible injuries

Add the contact information of other drivers and witnesses to your contact list
Then, accept emergency transportation to a hospital and undergo a complete evaluation. Be sure to tell the doctor about every symptom, even if it seems minor. Injuries can hide themselves during high-adrenaline situations and then reveal themselves later. Be sure to follow all of your doctor's recommendations for treatment and then do the following:
Ask for a medical report detailing your injuries, the doctor's recommendations for treatment, and your prognosis for recovery

Keep all medical bills and invoices

Obtain a copy of the police report

Call the Atlanta car accident attorneys at Piasta Walker Hagenbush, LLC, for a free consultation
Car insurance companies have profits as their goals and rarely write out a check happily. By keeping a cool head and taking the above steps, you'll have the evidence your car accident lawyer in Atlanta needs to prove your car accident case.
How Much Compensation Can I Receive in an Atlanta Car Accident Claim?
Every case we settle or bring to trial is different. Therefore, it may be difficult to provide accurate estimations for the compensation you could receive. Often, compensation is directly tied to the extent of pain and suffering you or your loved one experienced in the car accident. Minor injuries will often be awarded less than more substantial ones or fatalities.
It is worth noting that in Georgia, there is no upper limit on the amount of compensation you can receive from car accident case.
What Types of Damages Can I Receive For My Car Accident in Atlanta?
Regardless of if you settle your case out of court or go to trial and the jury decides in your favor, you could receive either economic or non-economic damages. Your settlement offer will vary depending on the specifics of your car accident case. In many cases, car accident victims gain compensation for the following damages:
Medical expenses

Future medical expenses

Lost income

Future lost wages

Diminished capacity to earn if they've suffered a disability from the accident

Pain and suffering

Any other appropriate non-economic damages such as disfigurement, loss of pleasure in life, or PTSD
Serious injuries from car accidents quickly become costly. Your medical bills and daily expenses may be mounting while you are unable to return to work due to your injuries and recovery time. Financial compensation can help open doors to the best medical care and relieve the undue financial burdens caused by a preventable injury.
Insurance Company Tactics Used to Deny or Lowball Your Claim
At Piasta Walker Hagenbush, LLC, the auto accident attorneys our personal injury law firm aren't afraid to advocate aggressively for your rights even against powerful insurance companies with profits as their motive. Some common methods insurance adjusters use to deny or undervalue car accident claims in Georgia include:
Attempting to assign you a greater amount of fault in the accident

Calling you with a low settlement offer too soon after your auto accident for you to know the scope of your damages and demanding you sign a release from further liability to gain the settlement

Asking for medical authorization to review your doctor's notes on your injuries and then examining your full medical history to find pre-existing conditions they can say are the true cause of your pain

Scouring your social media to look for "evidence" that you aren't as injured as you claim

Claiming that their own medical experts say your doctor has recommended treatment that isn't necessary

Claiming that you can't be as injured as you appear due to the fact that your car wasn't totaled
Insurance companies typically teeter on the edges of the law when attempting to deny claims, but at times their practices can become unlawful if their calls are aggressive or they deny coverage guaranteed in the terms of the policy. In this case, they can become the target of a second lawsuit for bad-faith insurance practices.
You should never go it alone against insurance companies. Instead, hire a seasoned Atlanta auto accident attorney and direct all communication with the insurance company to your lawyer.
How is Fault Determined After a Car Accident in Georgia?
Georgia is a "fault" state. This means you have the choice between filing an auto accident claim with insurance through your insurance company, filing a claim directly with the at-fault insurer's company, or filing a personal injury lawsuit.
Additionally, considering Comparative Negligence, you may receive a modified percentage of the award based on the court's perspective on your contribution to the collision occurring. A skilled Atlanta car accident attorney from Piasta Walker Hagenbush, LLC can investigate the accident to prove liability on the part of the person at fault or show their greater fault compared to yours. Proving liability for a car accident in Georgia requires demonstrating the following:
That the driver owed you and other motorists on the road a duty of care to take reasonable measures to protect your safety such as avoiding distractions, driving the speed limit, and following all traffic laws

That they breached this duty by driving negligently or with recklessness—or with purposeful wrongdoing in cases of drunk driving or road rage

That their breach of duty caused your accident and injuries

That you've suffered significant economic and non-economic damages from the injury
Once your Atlanta car accident lawyer uses evidence to prove liability, they can craft a clear and compelling case for your compensation and draft a demand letter to the insurance company with the hope of gaining an ample settlement out of court. However, a skilled and experienced car accident attorney in Atlanta is more than ready to go to court if required to ensure you recover your losses.
What is the Statute of Limitations on Car Accidents in Georgia?
In Georgia, the statute of limitations on most personal injury cases (including car accidents) is two years, which means that starting from the accident date, you have two years to file a claim. There are only a few rare exceptions to this rule including:
If you are unaware of an injury that occurred during the accident until later, then the statute of limitations begins on the date that you discovered the injury or should reasonably have discovered it

If the injury victim was under age 18 during the accident, they have until 2 years after their 18th birthday to file a personal injury claim

If the driver at fault for the accident flees the state or isn't identified until some time later, the statute of limitations begins on the date they are identified.
Will I Have to Go to Court for A Car Accident Claim?
An accident claim is filed directly to the appropriate insurance company and doesn't involve a court or lawsuit unless the insurance company repeatedly denies the claim or seriously undervalues it. A claim only becomes a lawsuit if you and your car accident attorney in Atlanta agree to take the defendant and their insurance company to court in order to compel them to pay out the full amount of your damages. 
It's important to file a claim promptly, once you know the extent of your damages so there's ample time to negotiate for a settlement and still have the ability to file a lawsuit within the state's statute of limitations if you can't reach a mutually acceptable settlement.
Most Common Areas for Serious Crashes in Atlanta
We have analyzed the most common locations for fatal crashes in Atlanta, according to FARS data.
| | | |
| --- | --- | --- |
| Roadway 1 | Roadway 2 | Total_Fatalities |
| I-285 | | 11 |
| I-75 | | 8 |
| I-85 | | 7 |
| SR-139 | | 6 |
| I-20 | | 5 |
| I-75/85 | | 4 |
| SR-70 | | 2 |
| SR-237 | | 2 |
| SR-8 | | 2 |
| SR-400 RAMP | LENOX RD | 2 |
| SR-54 | | 2 |
| SR-166 | Barge Rd | 2 |
| CS-161403/JOSEPH E LOWERY BLVD | | 2 |
| SR-8/DONALD LEE HOLLOWELL PKWY | | 1 |
| I-75/I-85 | | 1 |
| CS-058103/JACKSON ST SE | CHAMBERLAIN ST SE | 1 |
| SR-20 RAMP | | 1 |
| SR-3 | | 1 |
| SR-279  OLD NATIONAL HWY | | 1 |
| I-20 RAMP | | 1 |
| I-285 RAMP | | 1 |
| SR-139 CASCADE AVE SW | | 1 |
| I-20 E | | 1 |
| I-85 S | | 1 |
| CS- RALPH DAVID ABERNATHNY | WHITEHALL ST | 1 |
| SR-9/PEACHTREE RD | COLONIAL HOLMES DR | 1 |
| SR-9 | SHERIDAN DR NE | 1 |
| CS-139403/CAMPBELLTON RD SW | | 1 |
| CS-139803/MELDON ST SW | | 1 |
| CS-066103/PEACHTREE ST | 6TH ST | 1 |
| SR-3  METROPOLITIAN PKWY | | 1 |
| SR-154/MEMORIAL DR SE | DANIEL AVE SE | 1 |
| SR-237/PIEDMONT RD | | 1 |
| CS-413009/W CAMPBELLTON SR | | 1 |
| SR-9 | | 1 |
| CS-1232203 | | 1 |
| I-285 OFF RAMP | | 1 |
| SR-260 | | 1 |
| SR-92 | | 1 |
| CR-515 | | 1 |
| DECATUR ST | | 1 |
| CONSTITUTION RD | | 1 |
| SR-166 CAMPBELLTON RD | | 1 |
| SR-23/MORELAND AVE SE | | 1 |
| CS-165103   JOSEPH E LOWRY BLV | FOX ST NW | 1 |
| CS-72503  PERRY BLVD | | 1 |
| CS-065403  10TH STREET | NORTHSIDE DR | 1 |
| LAKEWOOD AVE | MILLER REED AVE | 1 |
| SR-280 | | 1 |
| MARTIN LUTHER KING JR | | 1 |
| SR-9 | RICKENBACKER DR | 1 |
| SR-166  GREENBRIAR PKWY | | 1 |
| SR-3/METROPOLITAN PKWY | | 1 |
| SR-54/JONESBORO RD | | 1 |
| CS-MORELAND RD | | 1 |
| SR-3 | ST JOHNS AVE | 1 |
| SR-42 | BRIARDALE LN | 1 |
| CS-139403  CAMPBELLTON RD | | 1 |
| SR-139 | I-20 RAMP | 1 |
| SR-14 | | 1 |
According to previous studies, some of the most dangerous intersections in Atlanta include
Briarcliff Road and North Druid Hills Road
Buford Highway and Lenox Road
Butner Road and Camp Creek Parkway
Joseph E. Lowery Boulevard and Wheeler Street
Memorial Drive and Hill Street
Moreland Avenue and Constitution Road
Piedmont Avenue and Monroe Drive
Roswell Road and Abernathy Road
State Road-139 and Bolton Road
No matter what part of Georgia you were injured in, our accident attorneys can help. We serve all over Fulton County and Atlanta, including Vinings, Buckhead, Underwood Hills, Atlantic Station, Midtown, Downtown Atlanta, Grove Park, Inman Park, South Atlanta, East Atlanta Village, West End.
Client Testimonials
"Mike Walker was one of the BEST people to work with on getting my case handled quickly, efficiently, and with great compassion for my particular needs. I could call or email day or night with the most outrageous questions and I would have a response within a day or two. If you need a firm that will treat you like family and work for YOU and what your needs are, not for a 'quick win', I would not hesitate to call or email Mike and/or his team."
– Amanda H.
"Legal issues will often cause unnecessary stress and uncertainty. All of this went away after I spoke with Edward and he assured me that my wife and I were in good hands. I had a small issue that I thought no one took seriously. Edward and his team treated my situation like it was the only thing that mattered. After weeks of dealing with this issue, the resolution came within a day of reaching out to this firm and my wife and I finally had a peace of mind. Words cannot describe how easy this team is to work with or how fast they reach a resolution. If you're reading these reviews, you may need legal representation. I would encourage you to look no further and allow this firm to bring back your peace of mind."
– John R.
"Mike is a competent and aggressive litigator. He approaches his cases with an "outside the box" mentality and is terrific at developing angles for cases that most attorneys would never think of. I highly recommend him."
– Jonathan S.
Count On The Atlanta Car Accident Lawyers at Piasta Walker Hagenbush, LLC
Our law firm takes car accident personal injury suits seriously, doing everything within our power to get you and your family peace of mind after this traumatic time.
The team of Atlanta car accident lawyers at Piasta Walker Hagenbush, LLC, want you to know that we are here to work with you to make you whole again.
With over $100 million in payouts since 2021, Piasta Walker Hagenbush, LLC, has a success rate that demonstrates legal excellence and a commitment to getting you maximum compensation.
A free, no-obligation consultation is all you need to get started. Contact us today to get an Atlanta car accident attorney on your side or call (404) 996-1296 to schedule a free consultation.