Atlanta Truck Accident Lawyer
Even though there are strict rules and regulations governing the trucking industry, most trucking companies have one major concern, their profits. It is all too tempting for trucking companies to cut corners to maximize their profits. But this often results in serious truck accidents in which people are injured or killed.
At Piasta Walker Hagenbush, LLC our attorneys have extensive experience handling truck accident claims in Atlanta. If you or a loved one was seriously injured or killed in a truck accident in Atlanta, our Atlanta personal injury attorneys can help you hold the truck driver or trucking company accountable and recover the compensation you deserve.
Atlanta Truck Accident Resources
Do I Need a Lawyer for a Truck Accident Case in Atlanta?
Yes. Though you are not required to hire a lawyer to assist you with taking legal action against a trucking company, without the assistance of a qualified truck accident attorney in Atlanta, the odds will be stacked against you.
Truck accident claims are different from car accident claims and motorcycle accident claims in Atlanta. Although both truck accident claims and car accident claims involve motor vehicle accidents, truck accident cases involve a commercial vehicle which are considerably more complicated. Here is why:
Multiple Defendants – Truck accident cases often involve multiple defendants, such as the truck driver, the trucking company, the manufacturer of parts for the truck, the party that loaded the truck, and others. Multiple defendants also mean multiple insurance companies, all trying to limit or deny your claim.
State and Federal Regulations – The trucking industry is governed by state, federal, and local rules and regulations. As such, the investigation will likely involve multiple agencies, such as the Georgia Department of Transportation, each with its own ways of doing things.
Higher Damages – Injuries sustained in a commercial truck accident tend to be much more severe than those sustained in the average car accident. Because of this, the damages sought in truck accidents is typically much higher. This, in turn, means that the liable insurance companies will fight that much harder to limit your claim.
All these factors combined to make truck accident claims complex and extremely challenging. To obtain the compensation you deserve after a truck accident, you need an Atlanta car accident lawyer who understands how complex these cases can be and how much you and your family need to be compensated. An experienced Atlanta trucking accident lawyer at Piasta Walker Hagenbush, LLC understands commercial truck accident laws and can help protect your rights.
Successful Case Results
The attorneys at Piasta Walker Hagenbush have experience successfully representing clients with a range of accident cases. Our specialized Atlanta truck accident lawyers are committed to helping injury victims recover financial compensation after suffering a serious accident. Some notable cases in which our attorneys have successfully secured compensation for clients include:
$14,000,000 Settlement: Pedestrian suffered a lower leg injury when a concrete truck struck his right foot. The investigating officer blamed the pedestrian 100% for his own injuries.
$5,500,000 Settlement: Wrongful death settlement in a tractor-trailer collision case.
$4,000,000 Settlement: Settlement arising from a tractor-trailer collision. The client required back surgery.
$1,600,000 Settlement: Total recovery in a case involving a client with back injuries sustained in a tractor-trailer wreck.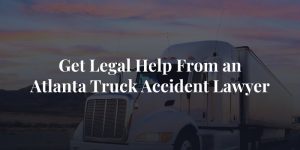 Determining Liability in Truck Accidents
Navigating liability in truck accidents can be challenging due to the wide array of possible at-fault parties in a truck accident. It takes a thorough investigation into the circumstances of the accident to identify liability. The liable party in a truck accident could be any of the following:
The truck driver if they are an independent contractor

The trucking company

A freight loading company

A truck parts manufacturer

A truck maintenance company
Once an attorney identifies the liable party in a truck accident, proving liability requires demonstrating the following:
That the party at fault owed a duty of care to prevent injuries, like the driver's duty to obey traffic laws or a parts manufacturer's duty to produce safe, reliable truck parts

That they breached this duty by an act of negligence

That the negligence directly caused injuries

That the injury victim suffered significant damages due to the injury
Once a diligent truck accident lawyer in Atlanta compiles evidence of liability and calculates damages, they can draft a compelling demand letter to the appropriate liability insurance company to gain a settlement. Only in the event that the insurance company acts in bad faith and denies or devalues a valid claim the case may proceed to a lawsuit in court. Lawsuits take longer and may require the victim to testify, but jury awards for damages are often higher than the amount the victim could recover in an out-of-court settlement.
Georgia's statute of limitations for truck accident injury claims is two years from the date of the accident. Victims have up to two years to file a lawsuit.
How Our Atlanta Truck Accident Lawyers Can Help
The Atlanta truck accident lawyers at Piasta Walker Hagenbush, LLC, have the experience, skill, and resources to obtain the best possible result from your Atlanta truck accident case. Contact our law firm for an Atlanta truck accident attorney today so that we can go over the facts of your trucking accident case and get started on your claim right away.
Our knowledgeable Atlanta truck accident lawyers understand that in order for truck accident victims to receive maximum compensation for your trucking accident claim, we need to act immediately. That is why our team of attorneys will take immediate action to ensure that crucial evidence is documented before it is lost or destroyed. Get help from an Atlanta truck accident attorney at our law firm for expert representation while filing a claim with an insurance company.
If you have lost a loved one in a catastrophic truck accident, our team of Atlanta wrongful death lawyers are on your side and can help handle your personal injury claim.
Damages in an Atlanta Truck Accident Case
When a fully loaded commercial truck weighing as much as 80,000 pounds collides with an average car at 4,000 pounds, the damage and injuries are often severe and costly. A successful claim for damages from a truck accident can recover the following damages:
Property damage

Medical expenses

Future medical expenses for follow-up procedures and ongoing medical care related to the injury

Lost income

Future wage loss

Diminished earning capacity if you've experienced a disability from your truck accident

Pain and suffering

Other non-economic damages that might apply in your case such as PTSD, trauma, disfigurement, loss of limb, or loss of pleasure in life
The two types of damages available for truck accident claims are economic damages which are easy to calculate and intangible non-economic damages like pain and suffering which are more difficult to calculate but just as damaging. Monetary compensation may not be able to erase pain and suffering but it can alleviate financial stress while you focus on maximizing your physical recovery.
What Tactics Do Insurance Companies Use to Deny Claims?
You should always hire a personal injury attorney before communicating with the insurance company after an accident involving a commercial truck. Trucking companies use powerful insurance companies that often use underhanded tactics to avoid paying out on a claim. These methods could include:
Calling you within a few days of the accident in order to offer a low settlement in exchange for signing away the right to a lawsuit, often before you could possibly know the full scope of your damages

Denying that your doctor's recommended treatment is necessary

Trying to assign you a large percentage of fault for the accident to minimize their payout under Georgia's comparative fault laws

Calling you with a friendly demeanor on a recorded line and taking your remarks out of context to use against you

Obtaining medical authorization to review your injury records and then searching your medical history to find pre-existing conditions they can claim are causing your symptoms

Claiming that you couldn't really have severe injuries based on limited damage to your vehicle
Insurance companies use a variety of methods to undervalue a claim or deny it completely. A seasoned truck accident attorney anticipates these tactics and knows how to counteract them with evidence during negotiations for a settlement.
What to Do After a Truck Accident in Atlanta
Truck accidents can leave the driver and passengers in the other involved vehicle with serious or even grave injuries. If you've been injured in an accident with a commercial truck, you may be able to do little other than wait for emergency services to arrive to help you. However, if you are able to move safely and use your phone—or hand your phone to someone else to use for you—you can take specific steps to protect yourself both physically and financially:
First, call 911 or be sure that someone else calls for help

Take photos of the accident scene and any involved vehicles, including the truck

Take photos of anything relevant to the accident, such as traffic signs and signals

Photograph damage to your vehicle and any visible injuries

Add the contact information of the truck driver, any other involved drivers, and eyewitnesses

Once at the hospital, ask for a full medical evaluation with a detailed report

Keep all medical bills and follow your doctor's orders

Ask for a copy of the police report and medical report

Call an Atlanta truck accident lawyer for a free consultation 
The more evidence you can preserve after a truck accident, the more likely you are to be able to fully recover the economic damages related to your accident as well as compensation for pain and suffering.
Georgia Truck Accident Statistics
With close proximity to ports and the convergence of several major interstate highways, including I-75, I-85, and I-20 in Atlanta, the Georgia trucking industry is thriving. Trucking industry wages are soaring at over $13.5 billion per year. While the trucking industry is an essential source of consumer goods as well as jobs, it also leads to traffic congestion and a higher-than-average number of accidents involving large commercial trucks. According to the American Transportation Research Institute, Georgia is the home of 9 of the nation's 100 worst trucking bottlenecks. Further research reveals the following startling statistics:
There's been a 49% increase in accidents involving trucks in the last decade

Between 180-230 fatal truck accidents occur in Georgia annually

14% of total crash fatalities in Georgia involve large commercial trucks

Most truck accidents happen during calm, clear weather

Semi-tractor trailer trucks make up 59% of commercial truck accidents, followed by single-unit trucks

The most common causes of truck accidents in Georgia are speeding and distracted driving

83% of truck accident deaths in 2019 occurred to those in the other vehicle, not the truck driver

In the last decade, Georgia averages around 5,200 non-fatal truck accidents per year

50% of the truck accidents in Georgia involve out-of-state trucks
Client Testimonials
"Mike Walker was one of the BEST people to work with on getting my case handled quickly, efficiently, and with great compassion for my particular needs. I could call or email day or night with the most outrageous questions and I would have a response within a day or two. If you need a firm that will treat you like family and work for YOU and what your needs are, not for a 'quick win', I would not hesitate to call or email Mike and/or his team."
– Amanda H.
"Edward Piasta is the most outstanding trial lawyer I have ever had the opportunity to work with, watch prepare a case for trial, and try a case. His arguments are innovative and creative, and most importantly, he is always prepared on both the facts and the law."
– Harlan W.
"Mike and I worked together as federal law clerks. He has built his reputation as an extremely detail-oriented attorney who fights tirelessly for his clients. I trust him to be a strong advocate for seriously injured people in auto accidents, trucking, and other personal injury cases. He has the knowledge necessary to navigate matters involving the intricacies of complex litigation, federal trucking regulations, and any other issue injury cases may involve."
– Douglas D.
Areas We Serve
The attorneys at Piasta Walker Hagenbush, LLC are committed to representing injury victims across Atlanta, GA. Our law firm serves clients in areas including:
Buckhead | Midtown | Downtown | Virginia Highland | Inman Park | Old Fourth Ward | Grant Park | Ansley Park | Cabbagetown | Reynoldstown | Morningside | West End | Kirkwood | East Atlanta Village | Poncey-Highland | Little Five Points | Vinings | Sandy Springs | Decatur | Druid Hills | Atlantic Station | Castleberry Hill | East Lake | Ormewood Park | Edgewood | Mechanicsville | Piedmont Heights | Chastain Park
Contact An Experienced Atlanta Truck Accident Lawyer
If you or a loved one suffered serious injuries in a commercial truck accident in Atlanta, GA, do not wait to contact Piasta Walker Hagenbush, LLC. Call our law firm today at (404) 996-1296 or visit our contact page to arrange a free case evaluation with a knowledgeable and experienced Atlanta truck accident lawyer. We charge no fee unless we win compensation for you.