Atlanta Bicycle Accident Attorney
At Piasta Walker Hagenbush, LLC, we are known as Atlanta's preeminent bicycle accident lawyers, we have extensive experience fighting for cases like yours. If you've been the victim or lost a loved one to a bicycle accident, you could be entitled to compensation to cover medical or burial expenses.
Whether a motorist struck you or you fell victim to a city or county roadway defect, the team at Piasta Walker Hagenbush, LLC, is committed to representing your cycling case as dedicated advocates serving Atlanta and the entirety of Fulton county.
Unlike other Atlanta bicycle accident attorneys, we aren't afraid to bring your case to trial. At Piasta Walker Hagenbush, LLC, we're confident in our abilities to get the verdict you seek, bringing justice to you and others in your life.
To get started, contact our Atlanta personal injury lawyers today for your free consultation.
What You Need to Know About Bicycle Accidents in Atlanta, GA
As a street-legal mode of transportation, bicycling offers a lot to families and individuals who need the transit method or enjoy the exercise. However, a lack of occupant protection for bicyclists paired with negligent drivers on the road can end in bicycle crashes, bicycle accident injuries, and even wrongful death.
The Governor's Office of Highway Safety reports that:
Annually between 2015-2019, there were at least 24 cyclist fatalities in traffic collisions
Bike accident hospital-related charges top $17 million
67% of all bike accidents involving motor vehicles did not take place at intersections
Types of Damages You Can Receive Compensation For After a Bicycle Accident
If you or a loved one were in a bicycle collision, you might be eligible to receive economic or non-economic damages. The severity of the injury or if the collision was fatal will likely impact this compensation. Our wrongful death attorneys in Atlanta have the skills to help. Rest assured, we try to provide the most compensation for your pain and suffering as possible.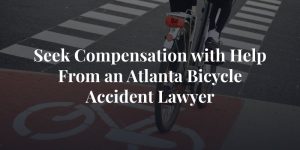 What To Do After A Bicycle Accident in Atlanta
Getting in a bicycle accident can be overwhelming. To protect your case and your livelihood, make sure to follow appropriate steps, such as:
Preserve all evidence, including helmet, bike frame, and the clothes you wore
Do not ever admit fault
Call the police to report the crash
Seek out a trusted personal injury attorney to protect you
If you are physically injured, go to the doctor and get documented evidence of your injury
Avoid making recorded statements to insurers
Of course, if you are incapacitated, these steps can serve as a guide for your family conducting affairs on your behalf.
Piasta Walker Hagenbush, LLC, is the Firm Dedicated to Protecting Atlanta Bicycle Accident Victims
With over $100 million in verdicts and settlements since 2021, Piasta Walker Hagenbush, LLC, gets Atlanta residents the compensation they deserve. Other firms will try everything to avoid a trial when it comes to bicycle accidents – not Piasta Walker Hagenbush, LLC.
Our bicycle accident lawyers in Atlanta don't deal in volume, taking cases just for the sake of it. We only take cases we are confident we can win, and we're confident we can win yours.
Contact us for your free, no-obligation consultation today. We're ready to get to work.