Atlanta Bus Accident Lawyer
Many people rely on public transportation to get to work safely. In fact, 700 million passengers are transported by buses across the country every year. Additionally, parents trust school buses to transport their children to and from school every day.
Unfortunately, however, bus accidents are a familiar occurrence in bustling cities like Atlanta. And when bus accidents occur, they often cause severe injuries.
If you or a loved one was recently injured in a bus accident in Atlanta, you have options. Speak to an Atlanta personal injury lawyer to find out if you are entitled to pursue a personal injury claim against the bus driver or bus company to collect compensation for your injuries.
At Piasta Walker Hagenbush, LLC, we help bus accident victims in Atlanta receive the compensation they deserve. Call us today at (404) 996-1296 to arrange a free consultation with a knowledgeable Atlanta bus accident attorney.
How Are Bus Accident Claims Different from Car Accident Claims?
While you may be familiar with the process involved with pursuing compensation after a car accident, there are a couple of important differences between bus accident claims and car accident claims that you should know about:
Buses are Common Carriers
What this means under Georgia law is that bus drivers have a heightened responsibility to their passengers. There is specific training that a bus driver must receive and certain safety guidelines and protocols that they must follow. When a bus driver does not receive the necessary training or follow the required guidelines and procedures, and as a result, someone is injured or killed, the driver and the company they work for may be held liable.
Buses Are Often Owned by Government Entities
Buses are often owned and operated by cities, municipalities, and school districts, which changes some of your legal requirements in terms of filing a personal injury claim after being injured in a bus accident. In most cases, this means that before you can file a claim, you need to provide earlier notice to the government entity of your intent to bring the claim. An experienced Atlanta bus accident lawyer from Piasta Walker Hagenbush, LLC, can help walk you through that process.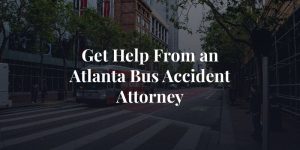 Your Rights After a Bus Accident in Atlanta, GA
If you are a victim of a bus accident, whether you were a passenger on a bus or were in a vehicle that was struck by a bus, it is important to understand your rights. If the accident was caused by the bus driver's negligence, you are entitled to be compensated for your pain and suffering, medical bills, future medical treatment, any lost wages that you have incurred, and other damages.
Our job at Piasta Walker Hagenbush, LLC is to try to make things right. We cannot go back in time and make it as if the bus accident never happened. But what we can try to do is to make you whole again, by putting you in the position you would have been if the accident never happened. Whether that means making sure your medical bills get paid, making sure that you are compensated for any lost wages you have incurred, or getting you paid for the pain and suffering that you have had to endure, that is what we will do.
Contact an Experienced Atlanta Bus Accident Lawyer
If you were a passenger on a bus in Atlanta that was involved in an accident, and you sustained a serious injury, or if you were driving a car or other vehicle, and you were hit by a bus, we are here to help. Call Piasta Walker Hagenbush, LLC today at (404) 996-1296 or visit our contact page to schedule a free consultation with an experienced Atlanta bus accident lawyer.
Our bus accident lawyers in Atlanta have the experience and the expertise to get you the compensation you deserve, and we charge no fee until and unless we recover compensation on your behalf.