Defective Products Lawyer in Atlanta
Product liability is a subset of personal injury law that holds those in a defective product's normal chain of distribution liable for injuries and damages caused by that product. Whether a consumer product, medical device, or automobile-related product, the product's manufacturer, designer, and distributor are legally obligated to ensure that the products they design, make, and distribute do not pose any unreasonable risk of injury to consumers.
When those who manufacture, design, and distribute products fail to keep their products safe, injury can result, and they may be held liable, according to a premises liability attorney in Atlanta. If you or someone you care about has been injured by a dangerous or defective product, you may be entitled to recover substantial compensation for your monetary losses and pain and suffering.
Here at Piasta Walker Hagenbush, LLC, we represent people who have been injured by dangerous and defective products. Call us today at (404) 996-1296 for a free consultation with an experienced Atlanta defective products lawyer.
Why Hire an Attorney for your Atlanta Defective Products Case?
Product liability cases are some of the hardest types of personal injury cases to win, which is why it is critical to have an experienced Atlanta product liability attorney on your side. At Piasta Walker Hagenbush, LLC, our Atlanta product liability lawyers will treat your case from day one as if it is going to trial, and we will do everything we can to get you the results you deserve.
Product liability cases often have the secondary effect of giving companies the incentive to improve product safety, and as a result, fewer people in the future will suffer injury due to product defects. An experienced product liability attorney in Atlanta can help ensure that the liable manufacturer, designer, or distributor is held accountable and that a clear message is sent to others who might consider putting profits above consumer safety.
Types of Product Defects
Product liability and defective product cases refer to personal injury cases that involve an individual who has suffered an injury due to a defect in a consumer product. Product liability claims often involve one or more of the following legal theories:
Design defects – where the design of the product itself is unreasonably dangerous and poses a danger to the consumer.
Manufacturing defects – where an error occurred while the product is being manufactured that makes it dangerous to use.
Failure to warn – where the manufacturer or seller failed to provide an adequate warning of potential dangers of using the product.
Marketing defects – where a seller misrepresented how a product should be used.
If you were injured by a defective product, you might be entitled to recover compensation for damages resulting from that injury. These damages may include lost wages, pain and suffering, medical expenses, property damage, and more.
What Evidence Is Needed To Prove a Product Liability Claim in Atlanta?
To succeed in an Atlanta product liability claim, you will need to prove that the defendant is liable to compensate you for your injuries and losses based on one of the following legal theories:
Strict Liability
Negligence
For strict liability, you do not need to prove that the defendant was somehow negligent, but you do need to show that:
The defendant manufactured the product
The product was defective when it left the defendant's control
You were injured because of the product's defect
To succeed in a product liability claim based on negligence, you will need to be able to prove the following;
Duty – The defendant owed you a duty of care
Breach – The defendant breached that duty of care owed to you
Causation – The defendant's breach of duty of care led to the defect in the product that, in turn, caused your injuries
Damages – You have actual damages, i.e., personal injury and/or property damage
Anyone involved in the design, production, and distribution of a defective product, and whose negligence caused or contributed to you being injured may be held liable in a defective product claim.
"Mike is a competent and aggressive litigator. He approaches his cases with an "outside the box" mentality and is terrific at developing angles for cases that most attorneys would never think of. I highly recommend him." – Jonathan S.

"Edward is an experienced trial lawyer who has taken objectively difficult cases and turned them into multi-million dollar successes at trial. I fully endorse this TRUE Trial Lawyer." – Titus N.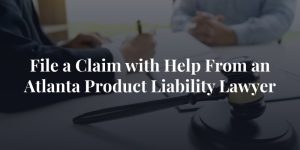 What Damages Can I Recover In an Atlanta, GA Product Liability Claim?
There are essentially two types of damages to which you may be entitled to recover through a Georgia product liability claim:
Compensatory Damages
Punitive Damages
Compensatory Damages
People who are injured by dangerous or defective products can suffer serious injuries. Compensatory damages are awarded to help the injured person pay for bills and compensate them for what they have lost because of their injuries.
For most people, compensatory damages will include out-of-pocket medical bills if they are forced to pay for that themselves, and past and future lost wages if they are unable to work due to their injuries. Compensatory damages can also include non-economic damages for pain and suffering, inconvenience, and any resulting disability.
Punitive Damages
Punitive damages, as the name suggests, are not meant to compensate the victim, but rather are meant to punish the wrongdoer and deter others from engaging in the same or similar conduct. Punitive damages are not awarded in every case.
To receive punitive damages, you must prove that the defendant's conduct was outrageous and outside the bounds of what we consider acceptable in our society. So, punitive damages punish the wrongdoer and help ensure that no one else is similarly injured.
Areas We Serve Across Atlanta, GA
The product liability attorneys at Piasta Walker Hagenbush, LLC represent clients who have been wrongly injured across Atlanta, GA. Our law firm handles personal injury cases in areas including:
Midtown | Downtown | West End | Kirkwood | East Atlanta Village | Poncey-Highland | Little Five Points | Vinings | Sandy Springs | Virginia Highland | Inman Park | Old Fourth Ward | Grant Park | Ansley Park | Cabbagetown | Reynoldstown | Morningside |  Decatur | Druid Hills | Atlantic Station | Castleberry Hill | East Lake | Ormewood Park | Edgewood | Mechanicsville | Piedmont Heights | Chastain Park | Buckhead
Contact An Experienced Defective Products Lawyer in Atlanta, Georgia
Every day, defective products injure people. Manufacturers have a moral and legal obligation to ensure their products are designed safely and will not harm consumers.
If you have been injured by a defective product in Atlanta, call Piasta Walker Hagenbush, LLC, to discuss your case and to find out what damages you may qualify for. Call us today at (404) 996-1296 or fill out our contact form to arrange a free consultation with an experienced Atlanta defective products lawyer.
If you are concerned about the legal costs, don't be. We handle defective product cases and other personal injury cases on a contingency fee basis, meaning we charge no fee unless we recover compensation for you.