Atlanta Premises Liability Attorney
Premises liability is the legal term used to refer to the law that governs compensation for injuries caused by a dangerous condition on someone else's property. Think of the proverbial banana peel in the grocery store that a customer slips on and falls.
Atlanta Premises Liability Resources
Common Types of Premises Liability Cases
Those who own, occupy, or control property have a legal duty to keep their properties safe. If they fail to do so and someone is injured as a result, they may be held legally responsible. Common scenarios that give rise to premises liability lawsuits include:
Elevator or escalator accidents
Playground accidents
House guest accidents
Dog bites and animal attacks
How Is Liability Determined in an Atlanta Premises Liability Claim?
There is a common misconception that if you get hurt on someone else's property, you automatically have good grounds for a premises liability lawsuit against the owner of the property. However, things are not as simple as that.
To have a valid premises liability claim against a property owner or occupier, you must be able to show that they owed you, as an invitee, a duty of care. A person is classified as an invitee if they were either expressly or implicitly invited onto the property.
A common example of an invitee is a customer in a department store or a patron in a restaurant. In these cases, the department store or restaurant has a legal duty to ensure the safety of those they invite onto their premises to transact business. Similarly, government entities that provide public spaces like public parks and libraries owe a duty of care to those invited onto the property and who are, therefore, not trespassing.
To have a valid premises liability claim, you must also show that the owner/occupier is at fault for your premises liability accident because they breached the duty of care owed to you. More specifically, you must prove that the owner/occupier knew, or should have known, about the hazardous conditions or circumstances that led to your injuries but did not take reasonable steps to remedy the situation or warn you about it.
Comparative Negligence Laws in Georgia
In some cases, you can still recover compensation for a premises liability claim even if your own negligence makes you partly at fault for the accident. Georgia personal injury law follows the concept of comparative negligence, meaning that if you are found less than 50% at fault for the accident, you can still recover compensation. However, your recovery will be discounted by your own percentage of fault.
For instance, if a judge or jury finds you 45% liable for the accident in which you were injured, you can only recover 55% of your damages. On the other hand, if you are found 50% at fault or more responsible you will be completely barred from recovering any compensation at all.
An experienced Atlanta personal injury lawyer can help ensure that fault for your Atlanta premises liability accident is allocated appropriately and assist you with navigating comparative negligence.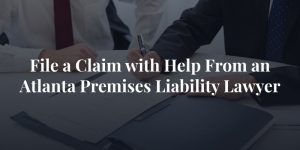 What Evidence is Needed for a Successful Premises Liability Lawsuit in Atlanta?
The obvious evidence you need to preserve for a successful premises liability lawsuit is the condition that caused you to be harmed. Whether it is a wet spot on the floor or an uneven step, it is imperative that you take pictures as soon as possible because, oftentimes, the property owner will come in and fix the hazardous condition in response to the accident.
Other evidence you might want to preserve is the footwear or clothing you were wearing at the time of the incident. In the case of a slip and fall accident, for example, these items will often identify the substance that caused the fall. Think of a smudge or wet spot on your clothing after you landed on the floor, or a scuff mark on your shoe that caught the edge of the elevated sidewalk.
Lastly, you need to collect and save the names and contact information of any witnesses. Unless there was a crime committed, the police may not come to the scene of a premises liability incident. Therefore, you must gather that information yourself. Otherwise, those witnesses may be lost forever.
Damages You Can Receive in an Atlanta Premises Liability Lawsuit
If you are contemplating filing a premises liability lawsuit after sustaining an injury on someone else's property, you should know that there are a variety of damages you may be able to recover. Of all the damages that may be recovered in a premises liability lawsuit in Atlanta, perhaps the most common are medical expenses related to the accident.
A premises liability accident can result in serious injuries, such as broken bones, head injuries, and spinal cord injuries that can be expensive to treat. If you sustained such an injury, you may be entitled to recover compensation for:
Medical bills
Prescription medications
Transportation to and from doctor's appointments
Rehabilitation costs
Other expenses related to treating and recovering from your injuries
If you are unable to work for any length of time due to the accident and your injuries, you may also be able to recover compensation for lost wages and income. And if you are unable to ever return to work, you may be able to recover compensation for loss of future earning capacity.
Other damages you may be entitled to receive after a premises liability accident include compensation for your pain and suffering and damaged property. Furthermore, if the accident resulted in the death of a loved one, you may be able to recover wrongful death damages, including:
The full value of the life of the decedent
The decedent's final medical expenses before death
Funeral and burial expenses
Other expenses related to your loved one's death
Reaching out to an experienced Atlanta wrongful death attorney can help you file your claim and seek compensation.
Successful Case Results
The skilled Atlanta premises liability lawyers at Piasta Walker Hagenbush, LLC have successfully handled a wide range of premises liability cases for injured victims across Atlanta, GA. Our team of attorneys have helped clients recover multi-million dollar settlements for clients who have suffered serious injuries or damages as a result of negligent property owners. Some notable case results include:
$11,000,000 Settlement: Premises liability settlement for the death of crime victim at an apartment complex as a result of negligent security.
$10,000,000 Verdict: Negligent security case for the death of crime victim at an apartment complex.
$7,010,000 Verdict: 2017 verdict arising from the death of a 19-year-old man at an apartment complex.
$3,000,000 Settlement: Settlement result in a highly disputed premises liability case.
$3,000,000 Settlement: Premises liability settlement arising from a gunshot victim who was killed at an apartment complex.
Areas We Serve in Atlanta, Georgia
At Piasta Walker Hagenbush, LLC, our premises liability attorneys represent injury victims in areas all across Atlanta, GA. Our law firm serves clients in areas including:
Midtown | Downtown | Virginia Highland | Inman Park | Old Fourth Ward | Buckhead | Grant Park | Ansley Park | West End | Kirkwood | East Atlanta Village | Poncey-Highland | Little Five Points | Vinings | Sandy Springs | Cabbagetown | Reynoldstown | Morningside | Decatur | Druid Hills | Atlantic Station | Castleberry Hill | East Lake | Ormewood Park | Edgewood | Mechanicsville | Piedmont Heights | Chastain Park
Client Testimonials
"I have dealt with Mike Walker on many occasions on different issues. He has always been very attentive and professional. I would highly recommend this law firm for any personal injury matter. Unlike many law firms, they don't just try to get a quick settlement. They will go to court and fight for you."
– John H.
"Edward Piasta is the most outstanding trial lawyer I have ever had the opportunity to work with, watch prepare a case for trial, and try a case. His arguments are innovative and creative, and most importantly, he is always prepared on both the facts and the law."
– Harlan W.
"Mike Walker was one of the BEST people to work with on getting my case handled quickly, efficiently, and with great compassion for my particular needs. I could call or email day or night with the most outrageous questions and I would have a response within a day or two. If you need a firm that will treat you like family and work for YOU and what your needs are, not for a 'quick win', I would not hesitate to call or email Mike and/or his team."
– Amanda H.
Contact an Experienced Atlanta Premises Liability Lawyer
If you or a loved one was injured or died because of conditions on someone else's property, you may be entitled to substantial compensation. But in most cases, you will need the assistance of a qualified premises liability lawyer in Atlanta to recover all the compensation you are entitled to receive.
The Atlanta premises liability lawyers at Piasta Walker Hagenbush, LLC, are highly experienced in handling all types of premises liability claims. We invite you to call us today at (404) 996-1296 or contact us online for a free consultation. We charge no legal fee unless we win your case.