Atlanta Burn Injury Lawyer
Have you or someone you love experienced a burn injury due to negligence or carelessness of a third party? If so, we deeply empathize with your pain and want to share that you may be able to hold said party responsible for this misconduct, potentially entitling you to compensation.
At Piasta Walker Hagenbush, LLC, we specialize in burn injuries, empowering you to get the maximum compensation and damages you seek for your suit. Other firms may be afraid of bringing their burn injury case to trial – not Piasta Walker Hagenbush, LLC. Our Atlanta personal injury lawyers do what it takes for you to receive restitution for your burn-related injury or loss.
If you're struggling in the wake of this burn injury and don't know where to turn, book your free, no-obligation consultation with us today. We want to hear your story and make you whole again through the due process of the law.
What You Need to Know About Burn Injuries
The World Health Organization, the National Institutes of Health, and the American Burn Association found that:
Approximately 180,000 deaths are attributable to burns per year – a global public health crisis.
Annually, over 486,000 Americans are estimated to have non-fatal burns severe enough to receive hospitalization.
Non-fatal burn injuries are life-long morbidity, often causing long-term hospitalization, disability and disfigurement.
Burns of any severity can lead to profound mental health challenges, as the burn victim may experience depression, suicidality, anxiety, PTSD, and low self-esteem.
Burn injuries of any sort, including those received from the carelessness or neglect of a third party, can be graded on a scale related to burn depth:
First-Degree:

Superficial
Does Not Blister or Scar

Second-Degree

Partial or Intermediate Thickness
May Scar or Require Surgery

Third-Degree

Full Thickness
Almost to Muscle
Kills Nerves
Requires Skin Grafts

Fourth-Degree

Full Thickness
To Muscle or Bone
Loss of Limb
Likely Fatal
What Compensation Am I Entitled To After Suffering a Burn Injury?
As discussed previously, the burn severity can affect the economic and non-economic damages you can receive in your case. As the state of Georgia has not had caps on damages in personal injury lawsuits since 2010, we will always attempt to recover the maximum compensation possible in your situation.
This may include covering damages such as:
Medical Bills and Rehabilitation
Future Medical Treatment
Past Lost Income and Future Wages
Anguish, Pain, and Suffering
Loss of Consortium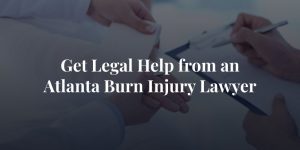 Help From Dedicated Atlanta Burn Injury Lawyers
If you seek to maximize the compensation you receive from your burn injury case, we are standing with you in solidarity.
At Piasta Walker Hagenbush, LLC, we have had over $100 million in verdicts and settlements since 2021. We know the best way to bring personal injury accidents to trial and aren't afraid to do so. When we try a case, it means we are confident we will win.
We want to learn more about your burn injury case and are dedicated to getting you the restitution you seek. Contact us today for your no-obligation, free consultation.