Atlanta Medical Malpractice Attorney
When people hear the term medical malpractice, it automatically suggests that something has gone wrong in the practice of medicine. Healthcare professionals are supposed to help us, and for the most part, they do.
Most healthcare professionals are wonderful, compassionate, and caring. But these doctors and other medical staff are human beings, and human beings make mistakes.
But when a health care professional makes a mistake and a patient is injured, someone must take care of the injured patient and protect their rights. And that is what the Atlanta medical malpractice attorneys do at Piasta Walker Hagenbush, LLC.
If you suspect that you or a loved one has suffered an injury due to medical malpractice in Atlanta, Georgia, call us today at (404) 996-1296 to arrange a free consultation. Our personal injury attorneys in Atlanta can discuss the facts of your case and your rights under the law.
How an Experienced Atlanta Medical Malpractice Attorney Can Help
According to a recent study, more than 250,000 people die each year from some form of medical malpractice, from incorrect dosages to surgical errors to wrong diagnoses. Medical malpractice is the third most common cause of death in the United States, but only 2% of those who suffer from medical malpractice ever file claims for compensation.
At Piasta Walker Hagenbush, LLC, we listen to our clients and to what happened. We order the client's medical records and investigate the claim until we understand what went wrong. Our Atlanta personal injury law firm has represented hundreds of clients who have been victims of major injuries related to medical malpractice.
What Damages Can Be Recovered In An Atlanta Medical Malpractice Case?
Whether it is a birth injury, wrongful death, surgical error, anesthesia error, hospital error, dental malpractice, failure to treat and diagnose cancer, or any other situation where a doctor or hospital has not provided the required care, we are here to help you recover compensation for a wide variety of damages, including, but not limited to:
Medical expenses incurred to treat your injuries
Future medical expenses
Wages and income lost during your recovery
Loss of future earning capacity
Pain, suffering, and mental anguish
Loss of consortium
Loss of enjoyment of life
Punitive damages
Wrongful death benefits if you lost a loved one due to medical malpractice
Our law firm works closely with doctors and nurses who review the facts and provide expert medical analysis and opinions to our lawyers to support our client's claims. We also have access to an enormous network of the most respected medical experts in the country to help prepare your case for trial and prove your claim in court. If a loved one was a victim of a fatal medical malpractice accident, our Atlanta wrongful death lawyers have the resources and skills to represent your claim.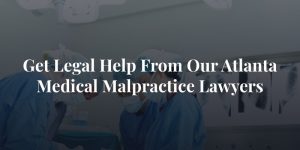 Areas We Serve in Atlanta, GA
At Piasta Walker Hagenbush, LLC, our team of attorneys are committed to providing legal representation for victims of medical malpractice across Atlanta, GA. Our law firm serves clients in areas including:
East Atlanta Village | Poncey-Highland | Little Five Points | Vinings | Sandy Springs | Decatur | Druid Hills | Atlantic Station | Castleberry Hill | Midtown | Downtown | Virginia Highland | Inman Park | Old Fourth Ward | Grant Park | Ansley Park | Cabbagetown | Reynoldstown | Morningside | West End | Kirkwood | East Lake | Ormewood Park | Edgewood | Mechanicsville | Piedmont Heights | Chastain Park | Buckhead
Call An Experienced Atlanta Medical Malpractice Attorney at Piasta Walker Hagenbush, LLC, Today
There are strict time limits for filing a medical malpractice claim in Georgia that can affect your ability to recover compensation for your injuries and losses. So, do not delay.
If you or a loved one was injured or lost their life due to medical malpractice on the part of a healthcare professional or medical facility in Atlanta, contact Piasta Walker Hagenbush, LLC, today. Call us at (404) 996-12960 or contact us online to arrange a completely no-risk, no-obligation consultation. There is no legal fee unless we win your case.
"Mike Walker was one of the BEST people to work with on getting my case handled quickly, efficiently, and with great compassion for my particular needs. I could call or email day or night with the most outrageous questions and I would have a response within a day or two. If you need a firm that will treat you like family and work for YOU and what your needs are, not for a 'quick win', I would not hesitate to call or email Mike and/or his team."

– Amanda H.